I started using DaVinci Resolve for all sorts of post production work (editing, sound, color) in 2020.
My usage is a bit sporadic, and I often need to re-remember how to do things, so I started making a search index of tips, tricks, keyboard shortcuts, and workflows here.
General
TEST RENDER (frame rate, audio)
Try a test export early on to make sure frame rate and sound are OK!
Project Settings (for Cloud Collaboration)
Rob and I frequently collaborate on cloud projects, so we want to make sure to use the same shared directories. We use:
Master Settings › Working Folders

Proxy generation location = /opt/s3/__RESOLVE/ProxyMedia (open __RESOLVE when setting)
Cache files location = /opt/s3/__RESOLVE/CacheClip (open __RESOLVE when setting)
Gallery stills location = /opt/s3/__RESOLVE/.gallery (open __RESOLVE when setting)

Capture and Playback › Capture

Save clips to = /opt/s3/projects/project-name/capture
Editing
Cut at the End of a Word
When editing voiceover dialog with b-roll, Rob and I found that cutting the visual on the end of a word (vs the beginning of a word) seems to generally feel a bit more natural.
Play a Portion of the Timeline on Loop
Mark In and Out on Timeline
Click the Loop arrow below the Viewer (so it's red)
Choose Playback › Play Around/To › Play In to Out ( ⌥+/ )
To clear the loop, you can use shortcut ⌥+x
Dual Viewer Mode on Edit Page
To load a clip into the (left) Source Viewer, select the clip, hit Enter on it, and it will load the clip with the frame under the playhead
Punch In / Crop in Post
Use an Adjustment Clip › Transform and set Zoom to something greater than 1 and then center the frame to your liking using the Position X / Y
Crop to 2.39 (or any) Aspect Ratio with Output Blanking
Suppose most of your footage was shot in 2.39 and you have a few clips with a more square aspect ratio. A very easy way to ensure your letterbox does not jump around is to set Timeline › Output Blanking to 2.39 (or whatever your desired aspect ratio is).
This will leave the source clips unchanged (though you may want to play with the Transform › Position › Y or Transform › Anchor Point › Y of your cropped clips.
Animate Anything (eg, Camera Tracking) with Video Keyframes
You can animate all sorts of things (text animations, video transforms) over time using the diamond controls to the right of each attribute in the Video Inspector tab
Say, for example, you want to animate camera tracking after Zooming a shot. Add an Adjustment Layer over the clip, move the Playhead to the final frame of the clip, and on the Adjustment Layer Video Inspector, you might set:

Dynamic Zoom = 1.5
Anchor Point: X = -860.0
click the diamond next to Anchor Point - it will turn red

Move the Playhead to the first frame of the clip, click the diamond next to Anchor Point again, and set X = 0.0
This will track linearly over time from right to left over the duration of the clip
View and Delete Video (Fusion) Keyframes for Adjustment Clips
After you've added keyframes to animate something in an Adjustment Layer you can navigate between them using the left / right chevrons next to the red diamond icon, but if you want to view all the keyframes (or delete one altogether), click the diamond icon at the bottom right of the Adjustment Layer clip to open a track below the clip that shows the various keyframes. Click one of these, it will select / turn red, and you can delete it:
Cross Dissolve (Fade in / out video)
Drag from Effects › Video Transitions › Cross Dissolve onto a clip to dissolve it in.
Another thing that might cause choppiness is insufficient disk space. I use Daisy Disk to quickly view disk usage, and recently when I had a choppiness problem, I opened my external drive in Daisy Disk and noticed a huge amount of space was marked has hidden space, so I emptied Trash on my Mac while the disk was attached and this cleaned up some of that space.
Editor Choppiness
Setting Project Settings › Timeline Resolution to 720p solved a lot of choppiness issues.
Render in Place…
If something is real choppy and you're pretty sure you're not gonna change it a lot, you can right click and Render in Place...
If you need to undo this later, right click and Decompose to Original
Improve Choppy Slow Motion with Frame Interpolation (when you didn't capture at a high enough framerate)
On the Clip Inspector, set:

In Retime and Scaling:

Retime Process = Optical Flow
Motion Estimation = Speed Warp

In Speed Change:

Ripple Timeline = On (this will increase the clip duration as you slow it down)
Speed % = something < 100

NB: this may be choppy in the DaVinci Resolve preview.

Try a test export to see how it looks
You can also set Playback › Render Cache = Smart to improve the playback within Resolve
OR, right click the clip and Render in Place...
Copy and Paste Clip Attributes
Select a source clip, cmd+c to Copy
Select all target clips, alt+v to Paste Attributes
Paste Insert at Playhead
Cut the clip you want to insert
Move Playhead, hit cmd+shift+v
NB: if your Playhead is in the middle of a clip (vs between two clips), it will split the clip in two to do the insert
Paste into Any Track
By default, if you cut a clip from Track n in Resolve, it will paste back into the same track (n)
To paste to any track

turn off Auto Track Selector for all tracks by shift+click-ing the Auto Track Selector icon to the left of the timeline
turn on Auto Track Selector by clicking the track you want to paste into
paste
turn back on Auto Track Selector for all tracks by shift+click-ing the Auto Track Selector on any track again

via Jason Yadlovskihttps://www.youtube.com/watch?v=D535CC4ObJo)
Delete a Gap on the Timeline
Select the gap by clicking it on the timeline. It will turn darker grey.
Hit backspace
UI Tweaks
I like to turn on Show focus indicators in the user interface in Preferences › User Interface so I can see what's selected
I like to turn on Stacked Timelines in Timeline View Options on the Edit page
Organizing and Importing Media
Search Text of Markers with Edit Index
You can access all the the text from the markers in the Edit Index view of the left pane of the Edit mode. Search the text with the Filter (magnifying glass) button.

NB: You may need to change the Filter by to All Fields.
Organizing Media Links
Editing A Documentary - Workflow Organization & Project Setup in DaVinci Resolve. From a doc editor (with tons of footage).

bins for media from each shoot day: day-01, day-02, …
bin for timelines
timelines for stringouts: footage from each day, ordered by timecode, so you can easily scrub through the entire day

NB: when you have multiple clips selected in a bin and add them to a timeline, the timeline order seems to be dictated by the column you are sorting by in the media panel

timelines for selects: copy each day's stringout timeline, annotate good stuff, remove the bad stuff
likewise, making an outtakes timeline early on is a useful thing to do so you can just throw stuff there as you come across it.

DaVinci Resolve 17 Edit Training - Introduction to Editing Part 1. Video from Blackmagic on organizing and inserting clips in different timeline modes.
Use no-op Adjustment Clips as Annotations
Automatically Set Reel Names from File Pathname
Under Project Settings › General Options check Assist using reel names from the: Source clip file pathname

I used /live-video/%R/ to get a reel for each day, eg day-01, day-02, etc
This is useful in case you want to isolate the reel as a variable, eg, to make a Smart Bin or to use in the Clip Name
Set Human Readable Clip Names with Metadata Variables
NB: I only wanted to do this with video files, and since they were in separate bins for each day, to select them all, I made a VIDEO Smart Bin:

Match Any of the following rules:

MediaPool Properties › File Name › contains BRAW
MediaPool Properties › Format › contains RED

Select all the video clips, right click, choose Clip Attributes
I set the name to %Scene // %Take -- %Format (% will give you a type-ahead for all the metadata available as variables)
Keywords
I believe you can search these in the Edit Index (tho I have not used them much yet).
In order to get these to show up in the Metadata viewer / editor, I had to use this dropdown and choose All Groups (or Shot & Scene):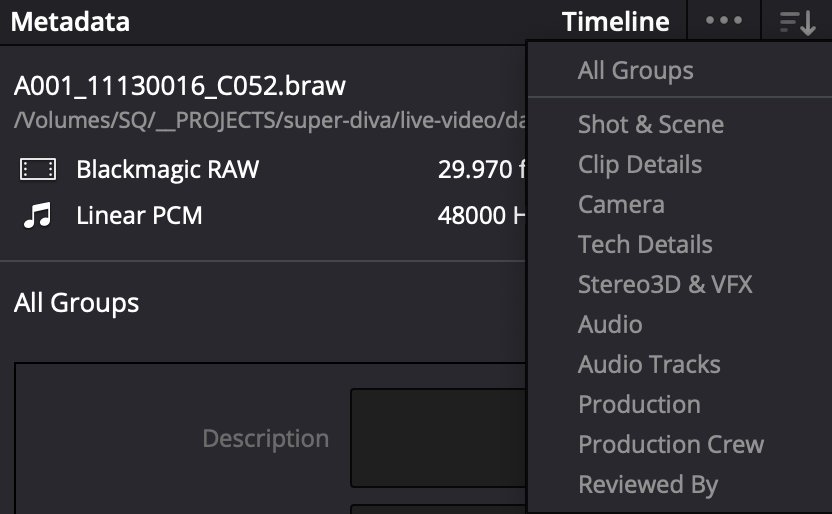 Custom Metadata Groups
I don't think I've used this yet, but seems useful.
In Preferences › User › Metadata, you can set up your own custom metadata groups…
BMPCC4k Slate Scene and Shot Metadata
OK, this is a bit more of a camera tip than a Resolve Tip, but…
I was kind of frustrated that the bmpcc4k slate did not allow you to set the shot number:
I posted about this on the Blackmagic Forum and learned you can kind of fake scene+shot by tapping the number in the center of the Scene slate. One of the options you'll see is 1A

If you choose this, then the › will increment to 1B, 1C, etc.
Likewise, according to the forum, you could use 10-1 or ` 0.1 or 10A or 10 A or 10 1 or 10.1a or 10/1` and these should all do the right thing.

Here is another long forum post on the topic.
Fixing Framerate (fps)
On one project, we realized after we imported everything into DaVinci that we had shot everything in 60fps. When we imported, DaVinci asked us to auto change the Project Timeline settings to 60fps to match the imports. BUT, 48hfp required us to export at. 24fps and apparently in DaVinci you MUST export at the project timeline settings.
We had two options.
Option 1: Export from DaVinci at 60fps and then convert to 24fps after the fact:
# inspect the fps, was 60


ffmpeg 

-i

  scene-06.mov



# convert from 60 to 24fps by dropping frames (vs changing duration)


ffmpeg 

-i

 scene-06.mov  

-filter

:v 

fps

=

fps

=

24 scene-06-24fps.mov

We would have done Option 1 if we had more work on the project done before we realized this error, but since we had done relatively little, we opted for Option 2.
Option 2: Create a new DaVinci project and DON'T change the Project Timeline fps when DaVinci prompts to do this on initial import.
Then, for all of the clips that are at 60fps, right click, select Clip Attributes and change Video Frame Rate from 24 to 60 fps.
NB: we did this once clips were in a timeline, BUT I think we might have been better off trying this in the Media Pool.
Proxy Generator
I often have a 4TB solid state drive velcro-ed to my laptop to store large project folders, but this can get slightly annoying. In the Blackmagic DaVinci Resolve 18 release, I learned about new Proxy workflows I wanted to give a try – essentially, these allow you to seamlessly switch between .braw and .mov Proxy files, intelligently using whatever files are on your drive and allowing you to select a preference for one over the other if you have both.
This is good primer on how the tool works.
My first pass was to run it on the project folder on my external SSD and then rsync everything execpt the .braw files over to my laptop HD:
❯ rsync 

-av

 /Volumes/SQ/__PROJECTS/jason-mattress/ /opt/s3/projects/jason-mattress 

--exclude

=

'*.braw'



In the future, I may switch this up to skip creating a project folder on my SSD altogether and have Proxy Generator directly send Proxy files to the laptop drive.
Deliver with Only Proxies
I had some trouble delivering / exporting from a laptop where I only had proxies. I was using the Vimeo preset, and it turns out it's only possible to deliver with proxies from Custom Export.
Under Video settings, I checked: Network Optimization and under Advanced I checked Use optimized media and Use proxy media.
See this forum thread.
Sound
Sync Based on Timecode
caveat: When I imported media from different days into a single bin, then tried to Auto Sync Audio › Based on Timecode and Append Tracks, I had a strange sync ERROR where there were lots of mistakes. I think this was (maybe?) a result of time-code only being unique within a particular day (not unique across the entire shoot?). It seemed to work better when I separated media for each day into separate bins, day-01, day-02, etc.

Once you have successfully done the sync, when you drag a video clip that has been synced to a sound file into a timeline, the synced sound file will automatically appear as a linked clip in the audio tracks below the video clip audio.
Sync Clips Based on Waveform with Syncalia
I've found the 3rd party software Syncalia does a much better job of syncing clips using Waveform than the native DaVinci Resolve tool for this:
Drag all video and audio into a Timeline named "Everything"
Open the timeline and File › Export AAF, XML and export an fcpxml file.
Open in Syncalia. Sync. Export XML.
Import the xml back into DaVinci, name Everything - SYNC.
Almost all of the audio should be synced.
Syncalia Timeline Tracks Gotchas
Syncalia does not seem to preserve which source files go in which video and tracks in the timeline. I like to have each device in its own track, so this is my workflow:

In the Media Pool (not in the Timeline), after re-importing the SYNC timeline exported by Syncalia, with SYNC timeline open, open the Filter by and choose name and then type something to find all the media from a particular device, eg: "braw" or "Tr1" or "zoom"

Select all the files from the device in the Media Pool, right click, then set Clip Color
Then, in the Edit Timeline, Select Clips by Clip Color and shift drag these to a dedicated track.
(I've found different clip colors for media from different devices is generally useful).
Syncalia Timecode and Framerate Gotchas
I had an issue where exporting clips to Syncalia and then bringing them back in was leading to "Media Offline" errors ("failed to link because the timecode extents do not match any clip in the Media Pool.")
I did a bit of googling, and changing the following two settings seemed to help:

in Project Settings › General Options › Conform Options Set Use timecode = From the source clip frame count
I still had errors after this, and I realized the stringouts timeline I exported was set to 24fps but my camera source clips were 23.976fps
I created a new timeline, stringouts-23-976 in 23.976fps

I copied everything from the un-synced stringouts timeline into this new one, exported it, re-synced with Syncalia, re-imported, and had much fewer errors.
I repaired the missing (zoom audio) files by placing the playhead at the beginning of each Media Offline clip and dragging the correct clip from the media pool into the correct track.
Transcribe Timelines
I saw a tip that you can transcribe timelines automatically as DaVinci markers with a service called Simon Says. I have not yet tried this.

Keyboard Shortcuts: find them all under DaVinci Resolve › Keyboard Customization
another video on editing metadata
Background Noise Filter
Choose Noise Reduction › Auto Speech Mode (the default seems to be for this to be radio selected to Manual)
Good also for removing mic buzz.
Dialog Leveler and Voice Isolation
Resolve 18.1 added 2 new awesome tools for cleaning up dialog: the Dialog Leveler and Voice Isolation features in the Audio properties for a clip
Crossfade (Fade in + out audio)
Select an audio clip and hit cmd+t (fade in + out)
Useful for removing some clipping / clicking on audio in / out.
OR with mouse, grab the white dogear on the top left / right of a clip and drag it towards the center:
OR right click the transition between 2 audio clips and Add 6 frame Cross Fade 0db:
Normalize Audio Levels!!
Normalize Audio Levels works GREAT! Right click on audio clip to do this.
We targeted -4db (instead of the default -9db) for the max peaks.
We also found that you definitely want Set Level = Independent (not relative for this), which will bring the peak for each clip to the target (vs the peak across clips).
Finally, if there is any clip with NO DIALOG, it will be WAY too high after this, so go through and find clips that are just background and bring them back down to 0 (or even lower).
Normalizing Audio Levels (Continued)
split dialog (different speakers), bg sound, everything to different tracks

consider using separate INT and EXT tracks for each speaker, eg, D/INT ABBY and D/EXT ABBY

for each track, Normalize Audio

Normalization Mode = True Peak
Target Level = -12.0 db
Set Level = Independent
An Alternative to Audio Volume Keyframes
Split a clip in two (alt-s), add a Crossfade on the transition, and adjust the level of each new sub-clip independently:
Fix Left / Right Audio Pan Issues
I was only getting audio from left earbud, this time to fix I had to set the tracks in the Timeline to match the type in the media pool, which was mono:

Make sure you set both tracks type to mono. Then panning should work. Track type should match source file type. /via https://forum.blackmagicdesign.com/viewtopic.php?f=31&t=62118
Fix Mono / Stereo Audio Issues
We had some issues setting the audio output correctly. Rob did something where he opened Clip Attributes on each audio clip, and in the Audio tab set:

Format = Stereo
Source Channel = Embedded Channel 1
Track = Audio 1
Channel in Track = Left
(next row)
Format (NULL)
Source Channel = Embedded Channel 2
Track (NULL)
Channel in Track = Right
NB: this is just me looking at one example, but I think he did different things for different tracks.
Display Different Audio Channels from wav in Separate Tracks
If your sound recorder saves different mic sources to separate audio channels within a single .wav file, you may want to view these as separate timeline tracks so you can adjust them independently.

From the Media Pool, Clip Attributes › Audio
Format = Mono
Tracks = 2 (or 3 or whatever)
In each row, configure each Source Channel as a separate Track
Fairlight Index
In the Fairlight Page you easily move audio tracks up and down or toggle their visibility
Use a Bus to Group Audio Tracks
On Fairlight Page, in menu: Fairlight › Bus Format
Add Bus (as many as you want, eg, your Main Bus, perhaps a Dialog Bus, etc)
In Fairlight Mixer › Bus Outputs you can send each Audio Track to one or more Buses
THEN, send other buses to MAIN
Apply Filters to Entire Bus
In the Fairlight Mixer, double click the Dynamics grid icon to bring up the Dynamics Panel for the Bus you want to manipulate
Use Dynamics Audio Compressor
Reduce audio level by Ratio (multiple) whenever audio level exceeds Threshold
Gain Reduction will show a blue band towards the top whenever the compressor does its job

Basically, you want to tweak the Threshold until you only see the blue when the level (eg dialog) hits a loud bit

Then use Make Up to get back your Output level to your target peak level (eg -12.0 db)
Make Dialog a Little More Clear By Adjusting Band 1 In Equalizer
Open Equalizer for Dialog Bus
Turn on Band 1
Drag right til it sounds slightly better but not too noticeable
Make Something Sound Further Away
Tip via reddit

First EQ and cut some of the highs then apply reverb to the eq'd sound and change the pre delay and the sound wetness (how much reverb) to fit the ambience in the shot. Meaning if it's a hallway it'll be very wet and even maybe have some echo. If it's open space it won't be as wet.

Reverbing eq'd sound because that's how sound travels. The reverb you hear from naturally occurring sound will mostly be sans high frequencies. Hence eq to create this perceivable effect of distance.

I actually got a sound that achieved the result I wanted by just cutting the high frequencies:
Simulate a Walkie Talkie Sound
I just cut out all the highs and lows with the EQ:
And added some Distortion (starting with the Lo Fi Radio Preset)
Create Ambient Outdoor "Roomtone" by Looping Smaller Clips with Offsets
Great tutorial ~ p241 of DaVinci Resolve 17 Fairlight Audio Post Manual
Find a portion of one of your tracks where no-one is talking. It doesn't have to be very long, like 2s worked for me.
In the Fairlight page, Zoom Waveform for the audio to increase the size by holding down shift+⎇ and scrolling up

NB: You will probably also want to Zoom the Timeline (cmd++) and Increase the Track Height (hold shift and scroll up)

Zoom Waveform until you can see a thin line that crosses above and below the horizontal axis
Trim your clip to start where the Waveform crosses this axis
Zoom out a bit, move your playhead a second or 2 to the right
Zoom back in, and find another point where the Waveform crosses the horizontal axis, and trim your clip to end here
Now you can stitch together this clip into a bed

Duplicate it 5 times, pasting it back to back with itself
NB: reversing every other clip in your bed may make it less obvious. Select the 2nd, 4th, and 6th clips (in the Fairlight Page). Right click and Reverse Clip
Duplicate your bed n times til you have a minute of roomtone.

Next, Bounce Audio to a New Layer…
Bounce Audio to a New Layer
In the Fairlight Page, select the track with the Audio Clips you want to combine (eg, your roomtone)
Open the Media Pool to the Bin where you want your new combined clip to appear (eg, the audio bin)
Select all the clips on that track you want to combine
Choose Timeline › Bounce Selected Tracks to New Layer
The new clip will appear in your selected Media Pool bin
When you use your roomtone, target -45db (via Fairlight Manual):

When you know the target volume level for the room tone, set the room tone of all the copied clips to match that level. (If you aren't sure what level to aim for, try using -45 dB in the Mixer as a guide.)
(OLD WAY I did this):

There was an outdoor scene / location where we didn't have a great continuous roomtone captured.
We did have a few very short bits, but looping any of them individual with crossfades always produced a bit of a metronome effect, so I ended up using a few of them together, on multiple tracks, and overlapping them with offsets, and then creating a longer Compound Clip I could use:
You may want to create a longer Compound Clip of this strung together.
Sidechain Dialog to Music
aka "ducking audio"
You may want to automatically decrease volume of a music track when you have dialog over it
Open the Dynamics for Dialog tracks in the Fairlight Mixer.
Under Compression, choose Send

NB: you do not need to turn on compression for the sending tracks

In the Dynamics for the Music track, turn ON Compression
Choose Listen. Set the Threshold really low and Ratio really high to make sure you can hear it working, then dial these accordingly back to get to "just enough" reduction:
NB: I was thinking originally of doing this with Buses and not Tracks, but that looks a little bit more complicated per this Blackmagic forum post
Fix Missing Waveforms
I ran into an issue where I was not seeing waveforms in either the Edit or Fairlight timelines.
Per this forum post, the problem was I had set the cache location to a folder on an external drive that was no longer plugged in.
I fixed by choosing a cache location (in Project Settings › Master Settings › Working Folders › Cache files location) to a directory that existed.
Target Loudness
You can set to different standards, eg, Netflix is -27 LU Target
BS1770-1 is -23 LU Target
Rule of thumb: you want most of your dialog hitting the Target Loudness Level

play a dialog section, and try to get the Integrated Loudness to the Target level by boosting the gain of the Dialog (or MAIN) Bus

defs from the Resolve 18 Manual:

Short: Measures the average LU level over a 30-second window following the playhead.
Short Max: Shows the maximum level over the same 30-second window. This analysis is required by EBU R128.
Range: Measures the dynamic range of the Loudness of your mix (in LU), which is the difference between the average soft and average loud parts of your mix. Analyzes the overall loudness over a played range of the mix, discounts the lowest 10% and highest 5%, and then gives a standardized expression of the difference between the remaining soft and loud levels that were analyzed. The window of analysis is as long as you've been playing. This analysis is required by most QC specifications.
Integrated: Measures the LUFS value of the portion of the range of the mix you've played through. As you play, this integrated value accumulates. This analysis is required by most QC specifications.
Mixing for Broadcast Loudness
Check Loudness at Faster than Realtime with Analyze Audio Levels
In Fairlight, you can measure the Loudness of your film with the set of meters on the Fairlight page that show stats for everything you have played back through the Timeline. This, of course, would take 60min for a 60min timeline.
You can also do this far more quickly in the Fairlight page by right clicking a clip and choosing Analyze Audio Levels
NB: I had different results when performing this operation on multiple clips at once. I think if you want to analyze the levels for multiple clips, the best bet is to select all the clips you want to analyze in aggregate, bounce them to a clip in a new track, and then right click and analyze that combined track.
Creating a 5.1 Audio Mix
A film festival that I am submitting Super Diva! to asked me to send them a 2k res 5.1 audio mp4 file of the short. The current sound mix is stereo only, so I did some work to put together a quick and dirty 5.1 mix.
My first step was consulting the excellent Davinci Resolve Fairlight Audio Guide.
I also posted and got some help in the Blackmagic Forum here.
After a bunch of research and messing around, here is what I ended up doing.
Create buses:

DX (stereo) - send all stereo dialog tracks here
MX (stereo) - send all music tracks here
FX (stereo) - send all stereo SFX tracks here
rename the main bus to MAIN-stereo
MAIN-5.1 (5.1) - main bus to monitor 5.1 tracks
x-stereo - send all the final stereo tracks here for export
x-5.1 - send all the final 5.1 tracks here for export

I realized some Siri sounds / lines were in an sfx track, so I created a new track for these and sent them to the DX bus because I wanted the Siri voice to come from the same speakers as the character dialog
Create new tracks to capture final stereo mixes:

DX-stereo, MX-stereo, FX-stereo

Bounce the mixes from each bus to a new track with Bounce Mix to Track
Create new 5.1 tracks DX-5.1-mono (mono), MX-5.1 (5.1), FX-5.1 (5.1)

best practice for a 5.1 mix is to send all the dialog to the center channel speaker, and send nothing else here, so:
copy the bounced clip from DX-stereo to the DX-5.1-mono track. The Pan for this track should have a single blue dot front and center:
copy the clip from MX-stereo to MX-5.1 and from FX-stereo to FX-5.1
for each of these, right click, choose Clip Attributes › Audio
the format will be stereo, since we bounced from this. Change Format to 5.1.
Send Embedded Channel 1 to Left and Left Surround
Send Embedded Channel 2 to Right and Right Surround
Mute the Center and LFE channels
Optionally: create a new LFE-5.1 track, and copy your most important dramatic moment sound effects clips into this track. Right click each of them and mute all channels, and map only the embedded channel to LFE
Optionally: you can of course get much more fancy with your panning of sounds you want to emit from different points in the room, but what I have outlined here is the simplest quick and dirty version.

Send DX-5.1-mono, MX-5.1, FX-5.1, and LFE-5.1 (if you have it) to x-stereo
Mute everything except these, hit play. You will probably hear NOTHING, because you probably are setup to be playing the MAIN-stereo track through your speakers. In the Fairlight page under the video preview, choose x-5.1 and now you should here your 5.1 channel audio.
The meters should show all 6 channels now as well.
But, you are probably only getting stereo output through your speakers.
Next, setup your 5.1 speakers…
Setup 5.1 Surround Sound Speakers on Mac for Davinci Resolve
Setting up 5.1 surround sound for Mac is not exactly plug and play. After a bunch of research, here is what I ended up doing.
Purchase:
This sub has 2 inputs, hence the extra 1/4 cable and RCA y-splitter to get channel 4 into both inputs on the sub.
In the Audio MIDI Setup app on your mac, find the GIGAPORT eX and Configure Speakers.

Change from Stereo to 5.1 Surround and map the channels as follows:

In Davinci Resolve open Preferences › Video and Audio I/O › Monitor Speaker Configuration make a new Monitor set named Gigaport 5.1. Set:

Left: 1: GIGAPORT eX
Right: 2: GIGAPORT eX
Center: 3: GIGAPORT eX
LFE: 4: GIGAPORT eX
Left Surround: 5: GIGAPORT eX
Right Surround: 6: GIGAPORT eX

Make sure you are monitoring a 5.1 bus:

Solo a mono track, pan it to each speaker to test.

To export a 5.1 mix, on the Deliver page, under Audio under Output Track 1 select the x-5.1 bus. Since this is a 5.1 channel bus, it should say (5.1) next to it.
Render
Open the rendered file in VLC
In VLC, under Audio › Audio Device select Gigaport eX.
Watch / listen to the whole thing!
Ensure dialog is coming out of Center speaker, music and sfx (and whatever else you sent there) are coming out of the Left, Right, Left Surround, and Right Surround Speakers
More Notes on Mixing 5.1
Fixed Bus Mixing
Create DIAL, MUSIC, and BG FX submix buses and Send accordingly
Create 2 new Main Buses: M&E (music & effects: Stereo) and 5.1. For M&E, duplicate Main 1.
Assign the DIAL, MUSIC, and BG FX submix buses to both Main 1 and M&E.
Change MUSIC submix format to 5.1 Surround.
Then, for example, you can pan one of the tracks such as DRONE 1 to go to left or LFE (with the Boom control at 0.0).
Assign all tracks with no dialog (and no roomtone) to the M&E output.
Flex Bus Mixing
setup DX (mono, dialog), FX (stereo, bg fx), MX (stereo, music), Stereo Out (stereo), and -10 dBTP (stereo) buses
DX, FX, and MX are used as submix buses
assign DX, FX, and MX to output to Stereo Out
"One common requirement is to deliver a separate mix with specific true peak value such as -10 dBTP. In this exercise, you route the signal from the Stereo Out to the adjacent -10 dbTP bus. Then, you'll apply a Limiter plug-in to that bus to limit the signal accordingly."
Surround mixing (Flex Bus):
Right click A2 track header, add 4 tracks Above First Track

A1 DX Mono
A2 DX Stereo
A3 DX 5.1
A4 DX 5.1 Rec
"You will bounce the dialogue mix to the A1–A3 tracks and re-record the dialogue submix to the A4 track. The bouncing does not require any patching or arming of tracks. To re-record the mono dialogue submix to the 5.1 track, you'll patch all six channels of the 5.1 main out to the six channels of the DX 5.1 track input."
Patch dialog: https://s3.amazonaws.com/4rk/screen-shot-2022-09-07-12.01.46-oitahbc7.png
Create a new bin for your rendered files
Ensure your integrated LUFs = -24 LUFS for entire timeline and highest peak does not exceed -2 dBTP (see Monitoring Loudness in Your Mix in Fairlight Manual). Use ITU BS.1770-4.
Bounce DIAL to DX Mono. Make sure to solo the dialog tracks.
"Choose Timeline > Bounce Mix to Track. In the Bounce Mix to Track dialogue, set the Destination Track for the Main 1 bus (Stereo) to the DX Stereo track. Set 5.1 Main to the DX 5.1 track."
The last bouncing technique for creating a dialogue stem is to actually record the sound from a bus back into a track.

5.1 Mixing Tips - https://youtu.be/M2b8OaSjWbE
Dialog - pretty much all to center (unless you REALLY want to pan a particular clip)
Crowd Sounds - 2 tracks, one to front left and front right, other to back left and back right
Foley - generally pan left and right to FRONT ONLY
SFX - pan left and right, and you might move eg a helicopter around the theatre
you might also want an SFX LFE track for important moments to send them straight to sub woofer
Music - often mixed in 5.1 already - some people send bass instruments to LFE, others think you should only use the LFE for SFX
Music - pan left and right, but bring it back off of the screen a bit (to separate it from the dialog)
Delivery
Export for Pro Tools
This was very helpful: How To Create An AAF From DaVinci Resolve For Mixing In Pro Tools
In Deliver Page, choose Pro Tools
Video - I used MXF-OP Atom (the default), but this resulted in a pretty massive file (like 5 GB for a 15min film)

NB: I think choosing QuickTime and 480x240 res makes a much smaller file and may be a better move

In Audio

Codec = Embedded in AAF
Add = 60 frame handles
Channels = Same as source (default)
Bit Depth = 24 (default)

Per the tutorial, I deleted all the Disabled clips from my timeline / audio tracks
Export for DCP
Color Grading
Here is an excellent tutorial from Gerald Undone on color grading / matching.
Useful Shortcuts for Color Grading
Add Node › Add Serial: alt+s
Disable All Nodes: alt+d
Disable Selected Node: cmd+d
Show what is selected with Qualifier: alt+shift+h
Quick Fix for Red Skin Tones
I had a problem where skin tones were looking far too red to my eye.
My first instinct was to use Qualifier to select some skintones, and then pull down the saturation.
This would be pretty BRITTLE tho and tedious to duplicate.
Rob shoed me a great way to do this (if you don't have a lot of the same reds in the rest of the image)
On the bottom left panel, open Curves › Hue vs Sat
Click the Spline on the bottom left, then click on some off-color (reddish) skin
This will give you some control points on the Hue vs Sat curve
Desaturate some of the reds and oranges:
Example:
Stills
Grab Still → saves to stills library, you can then Apply Still to Selected Clips
Tip: Label your stills!
Rob's Basic Process for Color Grading
Select the BRAW clip and you can do things like:
Decode Using: Clip
Color Science: Gen 4
ISO: adjust
Make 6 or 8 Serial Nodes

Node 1: White Balance
Use the picker under Color Wheels, then click something white in the shot
Node 2: Skin
Open Scopes › Vector Scope on right col
do this in an early node!
select some skin tones with Qualifier
try to do adjustments in the color wheels that pull the visual towards the diagonal line at like 11 o'clock
Node 3: Light & Exposure
Use the dials under Color Picker Wheels to adjust the light / exposure: (the dial graphic thing, not the W/RGB)
LIFT = shadows, bring down
GAIN = lights, bring up
GAMMA = mids, do last and squash (to fix washout)
can also adjust the numbers under:
SHADOWS
HIGHLIGHTS
MID/DETAIL - adds a bit of blur
do 2 passes through everything til it looks OK
Node 4: Spot Adjust
in middle bottom panel, select Qualifier tab
use the dropper to click around and make a selection
Denoise the selection range
alt+shift+h shows what is selected
eg, take out monitor blues → select with Qualifier
Under Color Wheel › Hue vs Sat, you should see a peak on the blue part of the selection. Add toggle points, de-saturate the blues by adjusting down
Likewise, you might punch UP the saturation on greens of shirt (in a different node)
Node 5: Film Grain
Open FX › Resolve FX Texture › Film Grain
if you want to add a film grain
Node 6: Motion Effects
controls in bottom left
Frames: 3
Mo. Est. Type: Better
Motion Range: Medium
Temporal Threshold:
unlink Luma and Chroma
Luma: 13.2
Chroma: 4.8
Node 7: LUTs
Black Magic 4k Film to Extended Video V4 is what we used:
Is there a lum vs lum curve?
No, but you can use the Qualifier to select a highlight, then reset the Hue and Saturation ranges to be everything, and you've effectively targeted a specific band of Lum to manipulate.
Working with an underexposed image.
We had some shots where we captured a relatively low range of luminance, so the Shadow / Midtone / Highlights wheels were not giving us the control we wanted (effectively we had no Highlights so this control did nothing).
To make our wheels useful, in the Primaries - Log Wheels, we used the Low Range and High Range controls to move the ranges of luminance controlled by Shadow / Highlights / Midtones
We lowered the Low Range (increases range affected by Midtones so we could use that to control lower luminance values with it) and the High Range (increases range affected by Highlights so we could use that to control lower luminance values with it)
Adjusting the Default Tone Ranges in Log Mode (from Resolve guide)
When in Log mode, two additional parameters appear in the top shared controls bar that let you modify the range of Shadows and Highlights image tonality that each Color Balance control affects, in turn narrowing and widening the range of Midtones. Keep in mind that while the ranges can be customized, the amount of overlap between each range cannot. — Low Range: Moves the border where the Shadows and Midtones meet. Lowering this parameter widens the range affected by the Midtones, and narrows the range affected by the Shadows. Raising this parameter narrows the Midtones and widens the Shadows. — High Range: Moves the border where the Midtones and Highlights meet. Lowering the High Range parameter narrows the range affected by the Midtones, and widens the range affected by the Highlights. Raising this parameter narrows the Highlights and widens the Midtones.
There are also Saturation and Hue parameters which mimic these settings found within other palettes and modes.
Fusion
Smooth Rolling Credits that Don't Skip Frames
I was looking for a good rolling credits tutorial to learn about setting multiple tab stops in a Text+ node, and I stumbled on this tutorial about how to smooth the roll so that frames don't skip due to subpixel value rounding deltas: Credit Roll Tutorial
Multiuser
Use an ec2 Postgres DB for Cloud Multiuser
Rob and I setup an Postgres DB on ec2 (we could not use RDS because of the super user privileges DaVinci requires). This worked OK, but since then, Blackmagic has added first class multiuser cloud collaboration as of DaVinci Resolve 18, so our workaround is kind of unnecessary.